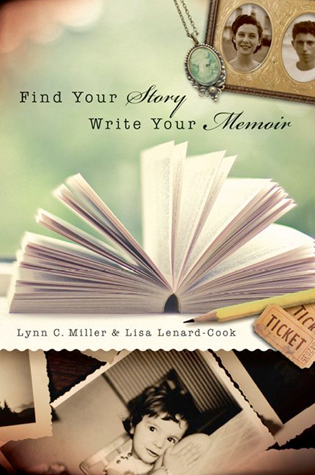 Publisher:

University of Wisconsin Press

Available in:

Paperback, ebook, audiobook

ISBN:

978-0299293147

Published:

May 31, 2013
Order From UW Press
Order Audio Book
Bronze winner, Foreword Book of the Year, Writing Guides
Best books of general interest for high schools and professional use, selected by the American Association of School Librarians.
Best books for general audiences, selected by the Public Library Reviewers.
Every person has a story to tell, but few beginners know how to uncover their story's narrative potential. And despite a growing interest among students and creative writers, few guides to the genre of memoirs and creative nonfiction highlight compelling storytelling strategies. Addressing this gap, authors Lynn C. Miller and Lisa Lenard-Cook provide a compact, accessible guide to memoir writing that shows how an aspiring memoir writer can use storytelling tools and tactics borrowed from fiction to weave personal experiences into the shape of a story.
Find Your Story, Write Your Memoir offers an overview of the building blocks of memoir writing. Individual chapters focus on key issues and challenges, such as the balance between the remembering narrator and the experiencing narrator, the capacity to honor the subjective voice, the occasion of telling (why does this narrator tell this story now?), creating an organically functional structure for a particular story, and taking the next steps with a written memoir. Drawing on their combined years of experience teaching memoir writing, authoring works of fiction and nonfiction, and working in autobiographical performance, Miller and Lenard-Cook provide a practical guide whose core philosophy is motivated by a key word: story.
Reviews:
"A remarkably compact, efficient, complete, and helpful guide to writing memoirs. I plan to use it in my own teaching."—Rachel Hadas, author of Strange Relation: A Memoir of Marriage, Dementia, and Poetry
"Find Your Story, Write Your Memoir is original, taking its standpoint on memoir writing from the craft of fiction, and integrating research about memory, narrative theory, and concepts important to performance studies."—Craig Gingrich-Philbrook, author of Loss: Stories about the End of Things
From the five-star reviews on Amazon:
★★★★★
"If you're writing your memoir, or summoning the courage to begin, hurry to get this book…. The writing is clear and entertaining, a joy to read. But better still, it provides a path with guideposts for thinking about memoir writing, with pauses for practice in shaded boxes and with shining examples of published memoirs woven throughout: Didion, Doty, Sexton, Dillard, Oates, Goldberg, Walls, and others. Find Your Story, Write Your Memoir will ease your struggle with questions such as Should I write about my life? or How can I organize the chaotic jumble of my experience? or What should I include or leave out? or How will others react to my revelations? or How can I make my writing interesting? Drawing on the tools of fiction and creative nonfiction, it will help you identify and apply techniques for building a successful memoir: the "occasion of the telling," your unique narrator voice, the creation of scene, the necessary details. Although I am an experienced writer, this book has given me valuable new insights and has emboldened me to continue my own memoir writing along the path these authors have so intelligently and elegantly laid out before me."
"For years, I taught memoir, using essays I admired as my textbook. But I wish I'd had this terrific book to help the students through the difficult process of remembering and writing well. The tone of the book is both serious and cheerful, and the authors are encouraging and knowledgeable. I recommend this book to anyone starting out on a memoir–or picking up one begun and abandoned. And I recommend it also to anyone teaching memoir. It will smooth the way for teacher and student alike."