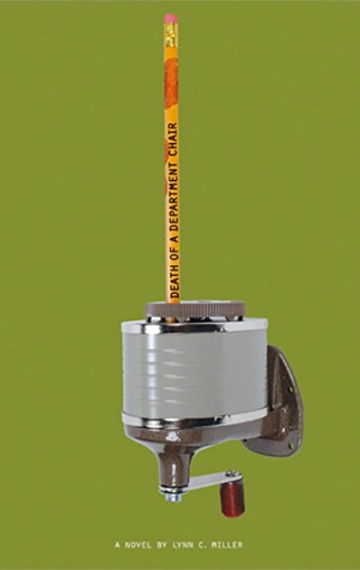 Publisher:

University of Wisconsin Press

Published:

August 31, 2006
Order From UW Press
Order From Amazon
In Death of a Department Chair, protagonist Miriam Held recounts the events of the previous fall when she was suspected of killing Isabel Vittorio, the chair of her department and her former lover. The controversial and contrary Vittorio was, at the time of her death, attempting to block the hire of a brilliant African American female professor. Already under siege for her attempts to increase diversity on campus, Miriam is forced to defend her reputation and her life. As she searches for the truth, Miriam amasses evidence that leaves few friends and colleagues free from suspicion. Both a classic whodunit and a witty satire, Death of a Department Chair dramatizes how communities can create the very climate of mistrust and paranoia that victimizes them.
Reviews:
"Everything moves fast in this mystery romp about desire and academic greed. Lynn Miller gives us not one but two deliciously insensitive villains and one first-rate heroine, not to mention a jumble of realistic crazies that anyone who's ever majored in anything at any university will recognize. A page turner whose witty and caring author makes us curious not only about who done it but who, amazingly enough, managed to hold off and not do it."—Carol Bly, author of My Lord Bag of Rice
"A tidy mystery with enough ambitious careerists and theorists to staff a dozen dysfunctional lit departments. Miller knows where the academic bodies are buried both literally and figuratively, and she touches up a traditional mystery with some lively, non-traditional angles."—Janice Law, author of Nightbus
From the five-star reviews on Amazon:
★★★★★
Lynn Miller's book opens a window into the arcane and petty realm of academic politics. With a wry sense of humor and a fine literary style, Miller guides the reader through a murder investigation, complete with the complex-and often ridiculous-motives of a variety of characters almost too wacky to be true. Anyone familiar with the worlds of academia or corporate bureaucracy will not only appreciate, but will thoroughly enjoy Miller's romp. I highly recommend it to anyone with a sense of humor and a desire for a delightful tale.